*This post contains affiliate links. For more information, please visit Messy Mama's Disclaimer page.
Every Christmas, my husband and I pick out one special ornament that highlights our entire year. Of course we purchased the mandatory lights, the colorful packs of ornaments, and even tinsel. However, over the last six Christmases, we have accumulated a set of very special ornaments that have their own unique story.
Our first Christmas together, we had our favorite football teams. We  got an elephant for that one year we raised money for an African Elephant charity. We purchased a cross for the year I received my communion. After finally decorating our apartment, we picked out a peacock ornament to match the theme in our living room. The year we married, we received an adorable photo frame. The year my family dog passed away, my mother gave me our family ornament, which we had gotten the year I graduated from college.
This year, our tree is sprinkled with the stories of Christmases passed. My husband and I point to each special piece and we say "Remember when?" It has become an unplanned tradition in our household. A tradition I plan to cherish for many Christmases to come.
The Christmas of 2018 will be a Christmas that our little family will always cherish, our babies first Christmas.
What a special occasion!
We are so very excited for our child and we can't wait to see what the magic of Christmas brings to her. This year, she is much too young to understand the holiday, or relish in the magic of it all, but we have so many fun ideas that we can't wait to share with her as she grows.
She will not understand who Santa Clause is, or why there is a large, glittery plant in our living room. She wont wake us up to open boxes wrapped up in pretty paper and bows. She may not know what to do with her presents and she'll probably try to eat the wrapping paper. The day will be special for us because it will be the first Christmas with our little girl, a story that we will tell her over and over.
So, the picking of the ornament this year was indeed a special one. My husband and I planned out our decoration shopping day. I grew giddy as we entered Target. We made our way to the Christmas Shop. I knew the ornament would speak to me, like it had each year before. This ornament would be the most special one on our tree. It would be perfect and magical and it would tell the story of our first Christmas as a little family.
My husband gathered other decorations, and we picked out baby's first stocking. The whole time my eyes grazed the fixture hooks for that perfect ornament. "Is that everything," my husband asked.
"No," I exclaimed in shock. How could he have forgotten about the Christmas tradition? The special annual ornament. I grabbed our little girl out of his hands and left him in the stocking isle. I paraded across the shop with my little girl and we made our way over to the ornaments. All of which were adorably cute and hard to resist.
I wasn't there for fun little wine bottles, dancing giraffes, or even the adorable big headed Maleficent which i so desperately yearned for.
No! This specific ornament had to be perfect. An ornament that I could pass down to my sweet little girl when she decorates her own tree.
So we searched and we searched. My husband continued to linger as he huffed and puffed. His tolerant clock ticked passed it's patience level. I paid him no mind as I continued my search. I looked high and low, over and under, front and back. I looked hard as I waited for the ornament Angels to sing, "Hallelujah," at the sight of my perfect ornament.
Then, I saw it!
There it was! It hung so beautiful and perfect on it's little hook. Alone, with no twin or match. I knew it was waiting, just for us.
The light from the ceiling hit the sequence so perfectly that it lit up in sparkle and wonder, like an Angel had actually caste it's own light upon it. It was magical, and I imagined it with the rest  of our collected ornaments, on our beautiful Christmas tree, where it told it's own story.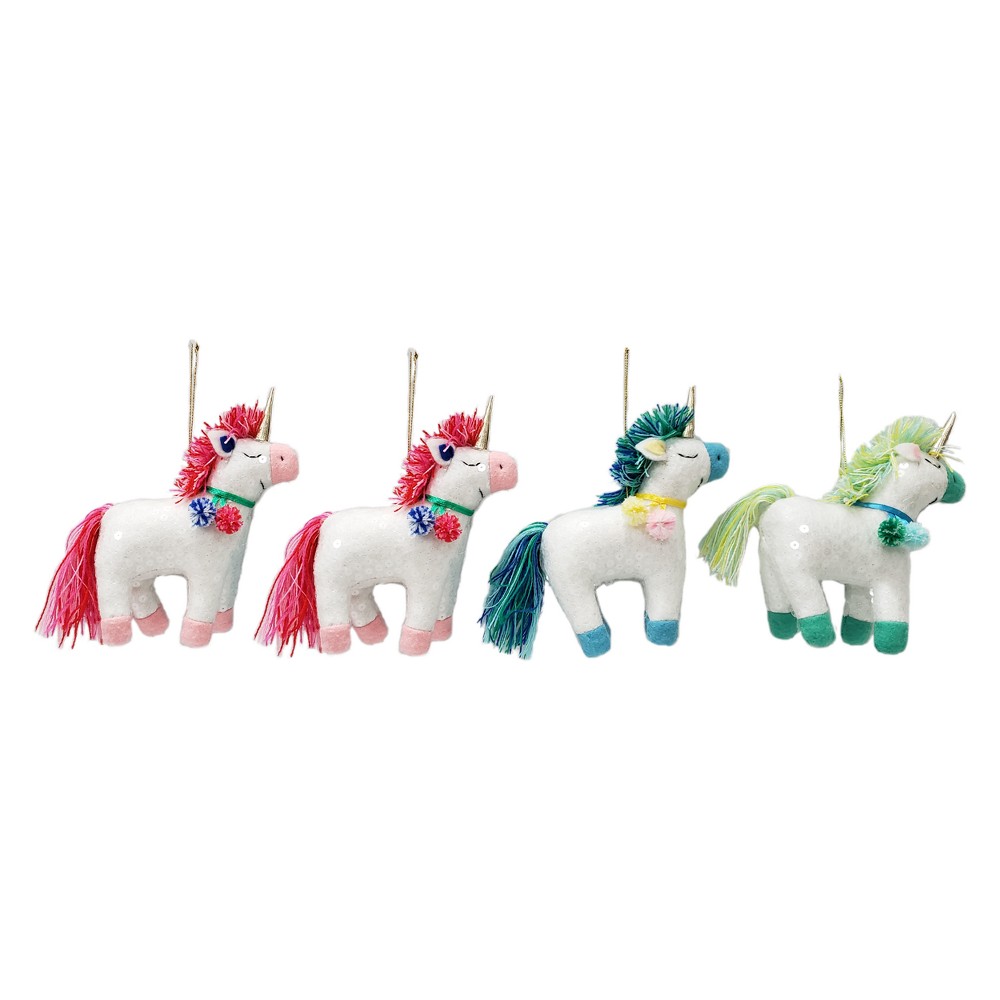 I lifted the 4ct Merry Lane Plush Sequin Unicorn Christmas Ornament off of it's fixture and I held it in my hand. I showed it to my little girl who's face immediately lit up. I handed it to her and knew it was just right as she cradled it in her tiny, little hands. This was going to be a Christmas to remember.
The little Unicorn sits perfectly on our tree.
It sits as a symbol of this years story; a story about a little girl, that turned two worlds upside down and right side up. A little girl with a beautiful soul and a heart so full of wonder. A child that has made this Christmas a magical one.
*This work, along with non-affiliated images, as well as other posts published by Messy Mama, are protected by copyright laws.
*Disclaimer – Statements made in this post are of my own opinions, views, and thoughts. I am not a professional and should not be regarded as such.
I would not recommend affiliated products that I don't love and use myself. However, if you purchase a product and are not satisfied, any inquires must be done through Amazon or Target. Messy Mama does not guarantee satisfaction. Availability of all items may vary.