*This post contains affiliate links. For more information, please visit Messy Mama's Disclaimer page.
So there's a new baby in the family and they are celebrating the Holidays for the first time! How exciting! Being a new-ish mom myself, I  can't wait to celebrate with our little one this season. As soon as we bring her into the main room of our home, she immediately points at the Christmas Tree. I can't wait to see her reaction when we put her first wrapped gift in front of her. I am curiously anticipating how she is going to handle it. Is she going to rip it open and try to shove the wrapping into her mouth, or will she stare at it, unsure of what she is supposed to do with it?
That new baby may not understand the concept of gift giving and can't request what she / he wants from Santa just yet, but shopping for little one's is still fun. Those adorable noise making toys and cute baby outfits. I could honestly spend hours in the baby department. Since becoming a mom, it is my favorite place to be. But, as a parent, can I be real with you? That noisy toy is probably going to get shoved in a dark hole somewhere and the outfit will hang in the closet. It may get worn once if your lucky. So, if your wondering what to buy the baby this Christmas, I suggest you go practical.
I don't want to pop your baby gifting, cuteness bubble but the truth is, babies fly through toys and clothes so fast that many of us just prefer hand me downs or toys that can grow with the baby. Still scratching your head? Okay, let me help you.
If you want to be the cool Grandparent, Aunt/Uncle, Big Cousin, etc; you can still get that little one the perfect toy. Lets pick a toy that can last beyond one stage of development.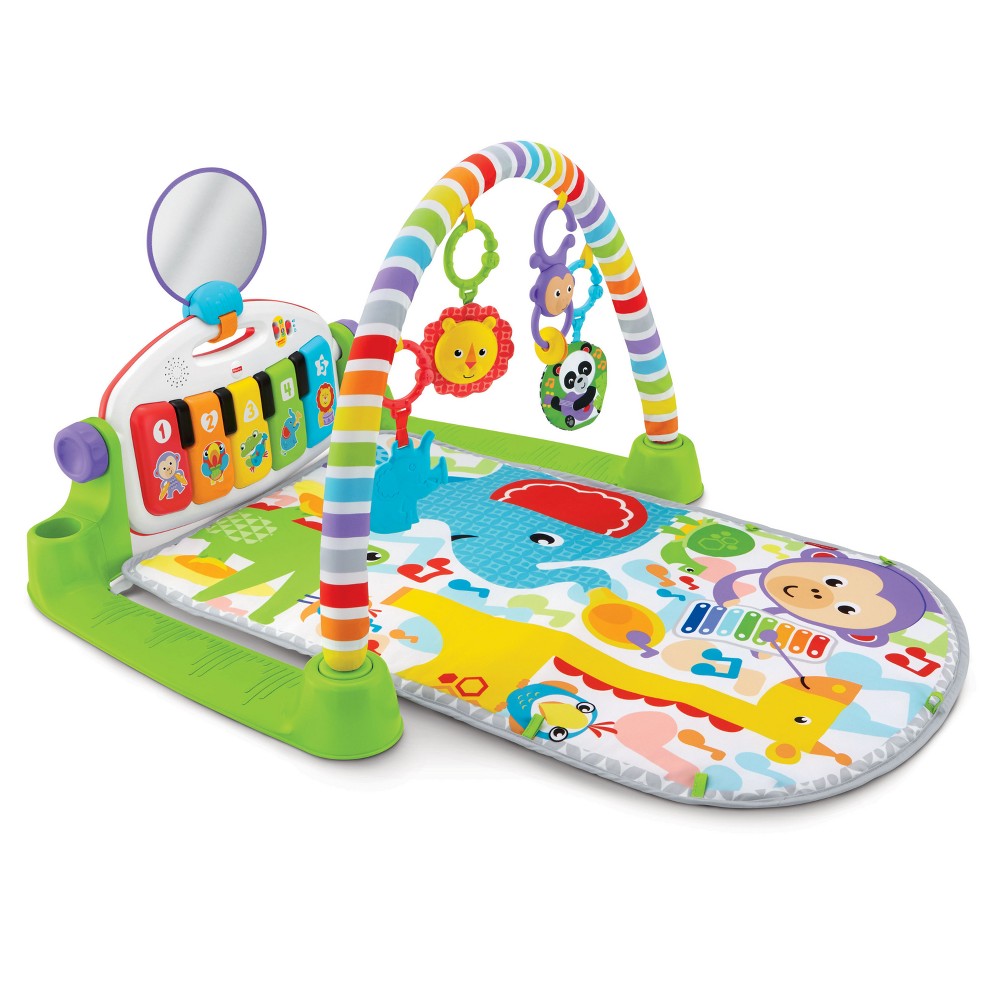 This Fisher-Price Deluxe Kick 'n Play Piano Gym  grows with baby through all stages. Lay and play, tummy time, sit and play, and take along. This play gym changes as baby grows from back/tummy, to sit, to crawl and even to stand. It includes five hanging removable visuals that extend to a teether, a rattle, a crinkle toy, a clacker, and a mirror, It also includes a piano that teaches music, numbers, shapes, animals and colors. We got this for our little one when she was a just week old and she still uses it nine months later. This product was by far the best practical toy and has gotten a ton of play time.

This Fisher-Price Laugh & Learn Puppy's Busy Activity Home
 for ages 6 – 36 months comes with three different stages. This interactive activity toy teaches open, close, up, down, turn on and turn off. It also teaches alphabets, numbers, shapes, colors and Spanish.  The activity home plays 55+ songs and has 7 hands on activities.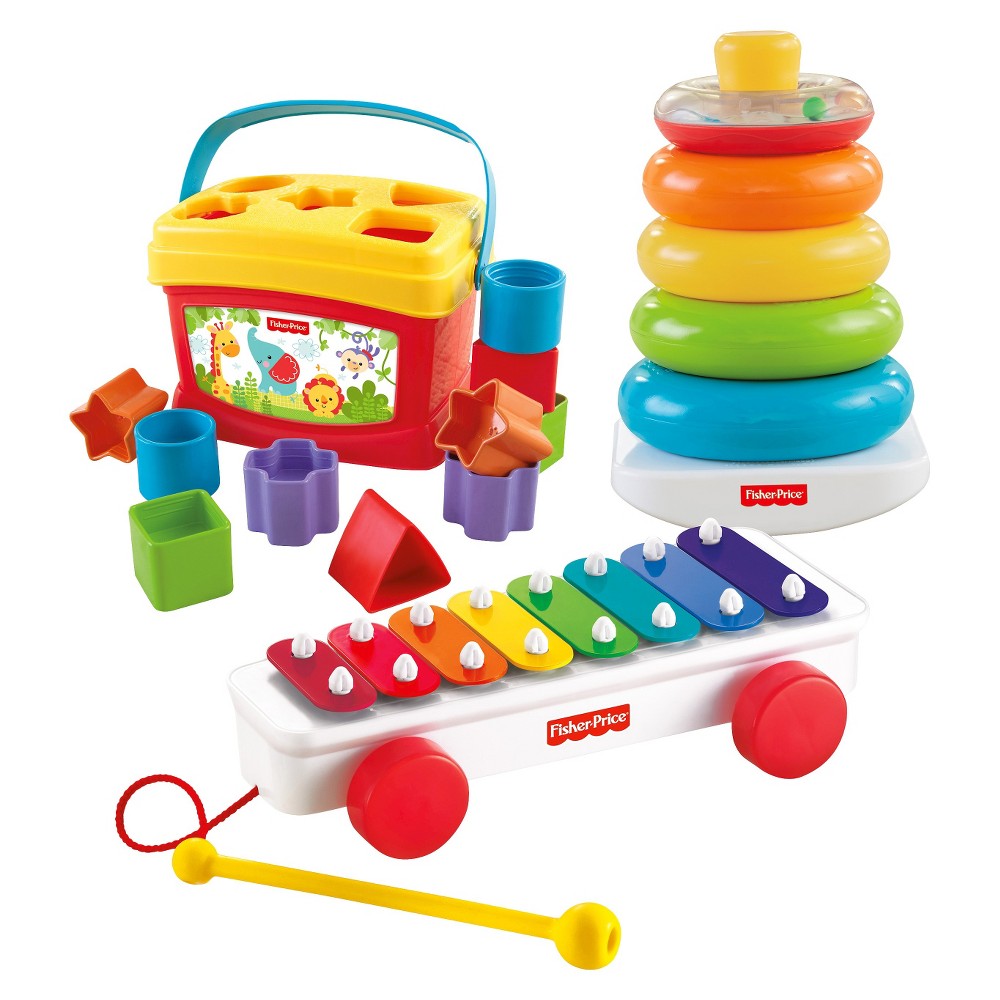 This Fisher-Price Classic Infant Trio Gift Set is the building blocks of all things baby.  Includes Rock-A-Stack, Baby's First Blocks and Classic Xylophone. Great for early hands on fun as baby learns to sit up and grab, and grows with baby as it teaches music, motor skills, problem solving, creative thinking, shapes and colors. These are great for baby from 6 months up to 18 months and beyond.
If you're going for clothes this year, let's get those items that baby can get multiple use's out of.
Most newborns sleep well when swaddled, but getting that swaddle perfect can be frustrating for the parent and the baby. Halo Sleepsack 100% Cotton Swaddle, Heather Gray, Small
 with Velcro gives baby the comfort they need. It can also adjust as baby grows into having her or his arms free. The swaddle can be Velcroed around babies waist for free hands while continuing to give that snug feeling. Transition into the Halo Sleepsack 100% Cotton Wearable Blanket, Huggy Bears, Large
 once baby grows completely out of the swaddle and give the parents the gift of a worry free sleep. These come in many colors and patterns but colors and patterns may vary.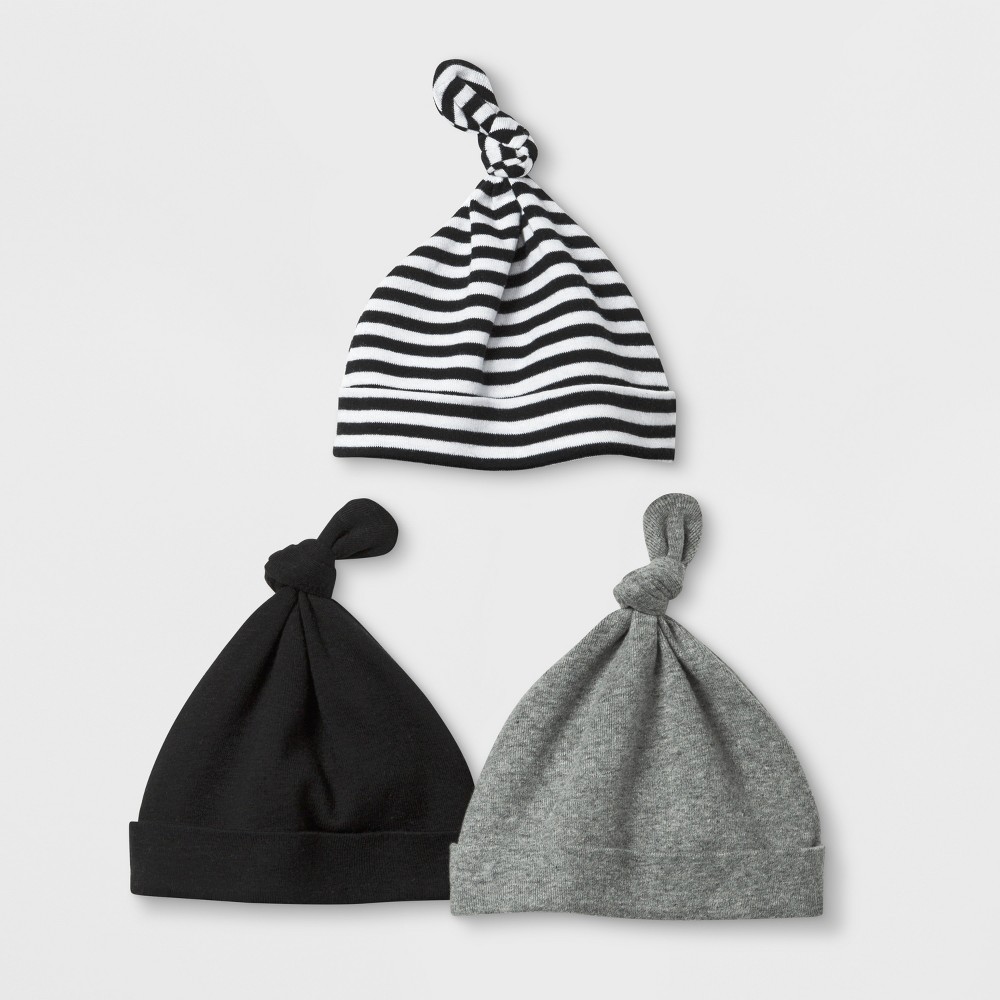 These Cloud Island Baby Hats from Target are perfect for delicate newborn heads. The best part, they grow with baby, providing a warm cover on those fall chilly days. Just unfold the hat to extend it's life until about 12 months. (Pattern styles may very)
Here, Messy Baby is sporting her favorite Cloud Island hat at 3 days old, again at 3 months, and the same hat still fits perfectly at 9 months old. And it comes in many different patterns. (Pattern availability may vary)
This cozy and warm Carter's 0-9 Months Quilted Knit Hooded Pram (Heather Grey, 9 Months)
 suit comes in blue, gray, light pink and pink. It's snug enough for those chilly winter days but also thin enough where it can be worn in the car seat for older babies. (Not recommended to wear in car seat with newborns, also not recommended for long car rides) Sizes available newborn to 9 months.  (Please speak with your pediatrician about infant clothes and car seat safety standards. I am not a professional.)
Finding gifts for baby is fun and the Holidays are always way more exciting when there is a little one to shop for. As a parent, I am begging you to think practical. If there is something you just absolutely have to buy, please include a box of diapers or wipes. If you're dying over that adorable outfit, add in some onesies, socks, or pajamas. That outfit may never get worn, but babies can never have enough onsies. The parents will thank you.
*This work, along with non-affiliated images, as well as other posts published by Messy Mama, are protected by copyright laws.
*Disclaimer – Statements made in this post are of my own opinions, views, and thoughts. I am not a professional and should not be regarded as such.
I would not recommend affiliated products that I don't love and use myself. However, if you purchase a product and are not satisfied, any inquires must be done through Amazon or Target. Messy Mama does not guarantee satisfaction. Availability of all items may vary.